Below are links to area musical ensembles for hire. The SSO does not endorse any of the listings, but only provides this information for the convenience of the music community and those that are interested in engaging them.
Kara Iwanowski
Local Pianist available for special events. Contact kara.iwanowski@gmail.com or call 410-420-0209.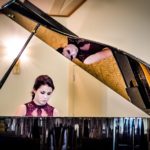 Steel Pandemic – A Caribbean Steel Drum Band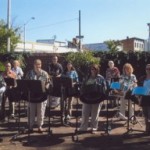 The Susquehanna Symphony Orchestra is the only community orchestra in the country that has a steel drum ensemble. Steel Pandemic made its debut with the SSO in 2008, and this Caribbean Steel Drum Band now performs at local events. For information contact Dolly Reinhardt, Director at 410-877-8163 or email her at dorisreinhardt22@gmail.com.
Christine Robbins – Strolling Violinist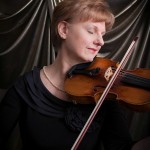 Since early childhood, Christine Robbins, strolling violinist, has been delighted by the amazing sounds of the violin. Her music education and life experiences have exposed her to the many musical styles of the violin repertoire, many of which she applies to her playing. Christine enjoys adding new works and musical styles to her voluminous repertoire. She is always enthusiastic to include her clients' favorite pieces among the selections that she plays for their special events.
Born and raised in New Jersey, Christine obtained a Bachelor Degree in Violin Performance from Glassboro State College, now Rowan University. Christine has performed in a number of orchestras, both professional and community, in the US and Europe, and maintains a membership in the American Federation of Musicians. A member of the Susquehanna Symphony Orchestra in Bel Air Maryland since 2003, Christine is also a sought-after teacher of violin and viola at the Maryland conservatory of Music, also in Bel Air.
It is Christine's pleasure to enhance your special event with her beautiful violin music. You may contract her at 443-967-0152 or at ctr1052@yahoo.com