Area businesses place ads in the SSO program and on the SSO website as a means of marketing directly to our patrons, and like to be associated with the sterling reputation of the SSO. In exchange, advertisers receive:
Logo placement and/or designation on our website, e-newsletters, and concert program books.
Onstage curtain speech acknowledgement
Opportunity to introduce the orchestra at one concert
To advertise with us, please fill out the Advertising Form 2021-22 and email it to susquehannasymphony@gmail.com or send in by regular mail to P.O. Box 963, Abingdon, MD 21009. If you have any questions, you may contact our Publicity Manager, Shannon Raum at 443-567-9414 or susquehannasymphony@gmail.com.
Ad Size
Single Concert Price
Full Page
(4.5" W x 7.5" H)
$160
Half Page
(4.5" W x 3.75" H)
$80
Quarter Page
(4.5" W x 1.875" H)
$50
The deadline for submitting ads is one (1) week prior to the concert date.
The following businesses place ads in our concert programs – We appreciate their support and hope you are able to patronize them – When you do, please thank them for supporting orchestral music in Harford County!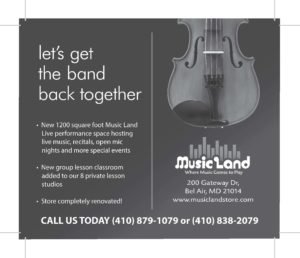 Your Space Storage Whether you're a homeowner or renter looking for a little extra space; a business owner needing room for archived documents or excess inventory; a student or member of the armed forces looking for storage while away; a car enthusiast storing vehicles; or a contractor needing a little extra space, YourSpace Storage provide you the perfect, affordable solution to meet your needs.