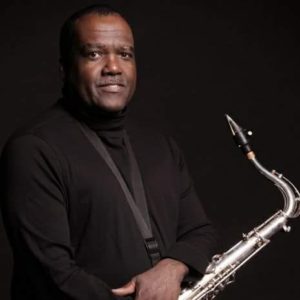 Born February 21, 1958 in Baltimore, Maryland, Russell started clarinet lessons at age 7 under the instruction of Mr. James H. Holliman. At 12 he began playing tenor. And by the time he was 15, sitting in with the Morgan State bands, Russell was playing tenor, alto and soprano saxophones as well as clarinet, bass clarinet and flute. 1976 was the year he became a full-time undergraduate student at Morgan State, and during that time he also started gigging for the Manhattans, the Four Tops, and Richard "Groove" Holmes in addition to several other artists who toured the area.
Shortly after his college graduation, Benny moved to New York and quickly formed a jazz orchestra called the NEW YORK ASSOCIATION–a seventeen piece ensemble that featured such noted jazz artists as trumpeters Cecil Bridgewater and Tom Harrell, saxophonist John Purcell, trombonists Steve Turre and Robin Eubanks, pianist Onaje Allan Gumbs, and drummer Mike Clark. Since then, Russell has been steadily building an impressive list of credits. Besides arranging and performing for off-Broadway shows like Beehive, he's worked with Otis Rush, Harry Belafonte, Mino Cinelu, Craig Harris, Jimmy Owens, Junior Cook, Mor Thium and a host of others. Russell can also be heard on The Cosby Show and A Different World. In 1995 Russell chaired the jazz division at the Brooklyn Conservatory of Music, where he also taught jazz history. While working at the Conservatory, he was able to launch a string of other cultural activities that served Brooklyn, including a program of workshops for high school students in the Brooklyn public school system, the Charlie Parker Birthday Festival, and regular performances with the Next Legacy Orchestra.
The Next Legacy Orchestra is a big band for which Russell writes and arranges as co-director with saxophonist Jorge
Sylvester. He first worked with this group when it was known as the David Murray Big Band. When  Murray decided to move to Paris in '96, he asked Russell to take on the role of leader, the name was changed and the group got a home on the Conservatory's stage. After a recent performance there, the Next Legacy Orchestra was described by New York Times critic Ben Ratliff as "one of the best overlooked bands in the city." In February, 2002, Russell presented his work Langston Hughes: The Soul of His Words to a large audience at the Museum of Natural History in New York. The three-movement piece written for 19 piece Jazz orchestra and three actors was received with a standing ovation and a citation from the Borough President Marty Markowitz of Brooklyn, New York. In February 2004, the piece was extended to five movements and received equally as well at the St. Francis College in Brooklyn, New York. In 2004, Russell chaired the Jazz department at the Maryland Conservatory of Music where he produced the 100th Anniversary Celebration of the birth of Count Basie which included Grammy-nominated artists Frank Foster, Antonio Hart and Mark Gross. In February 2005, Russell was commissioned to write a Jazz score for Zora Neale Hurston's play Cold Keener and it was received well at Baltimore's Loyola College.
In 2008, Mr. Russell was commissioned by the Multicultural Music Incorporation to write a three movement suite entitled The Darfur Chronicles which was performed by the Bronx Arts Ensemble and featured the highly acclaimed actress Nora Cole as the narrator. That same year, Mr. Russell initiated a march in Northwest Baltimore that commemorated the 40th Anniversary of the assassination of Martin Luther King, Jr. with the Wayland Baptist
Church. Dick Gregory was the guest speaker. In 2011, Mr. Russell conceived a program that featured an overture entitled Just Before the Autumn performed by the Susquehanna Symphony Orchestra. On February 24, 2013, Mr. Russell presented at Harford Community College Spirituals and Other Musings: A Tribute to 50 Years of a Dream. It featured a nine piece chamber orchestra in which he arranged all of the music and conceived the entire multi
media production.