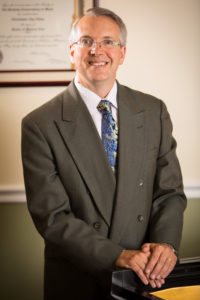 Christopher Dillon debuted with the San Luis Obispo County Symphony at the age of 17. He pursued his education at the Eastman School of Music, the Oberlin Conservatory, and the Peabody Institute. While at Peabody, he studied with Julian Martin, Ellen Mack, and Robert McDonald. Dillon obtained his Doctorate in Music at Peabody Conservatory in 2002.
In addition to teaching at the Peabody Conservatory from 1999 to 2003, he has been teaching theory, piano and ear training at Towson University since 2003. Dr. Dillon is currently Lecturer in Piano and Theory at Towson University.
Dr. Dillon has served as an adjudicator for several competitions, including the International Young Artist Piano Competition held in Towson, and for the Young Artist Piano Competition held at Texas State University San Marcos. Dr. Dillon's research interests include works of J. S. Bach (including a complete performance of J.S. Bach's Well-Tempered Clavier, Volume 2, performed from memory) and Alexander Scriabin. His efforts in that area have included a recital of five Scriabin sonatas, and a lecture-recital on synaesthesia in Scriabin's late works.