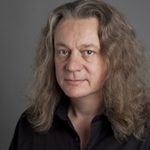 David Osbon is a composer, conductor and academic whose music has been performed, broadcast and recorded around the world. Most of this international recognition comes from the years he spent as a researcher and professor in cities as diverse as Philadelphia, The Hague and Istanbul. His compositions have received many awards including the Arts Council of Great Britain DIO Award, the RVW Trust electro-acoustic music award, the Clements Memorial Prize for Chamber Music Composition and the Alexander Grosz Memorial Prize in the UK – in the USA he was awarded the Hilda K. Nietsche Prize and the David A. Halstead Prizes by the University of Pennsylvania (where he did his PhD) and was recognised by the National Endowment for the Arts for his outstanding contribution as a music educator.
He has conducted ensembles and orchestras ranging from the Bulgarian Radio Symphony Orchestra and the Jordanian Army Band through to the Bremmerton and Grand Valley Symphony Orchestras in the USA. He has toured across Europe the USA and the Middle East with a variety of ensembles. An acclaimed expert in multi-media performance he is a pioneer in multi-platform and transmedia environments for contemporary performance. David is Associate Dean and Head of Graduate Studies at the London College of Music.
Since returning to the UK in 2000 David has, in addition to his musical work, held lecturing roles at the University of London, South Bank University, Rose Bruford College and Kingston University. He was, in addition, Head of Arts and Culture at Greenwich Council where he was instrumental in, amongst other things, devising the cultural chapter of the 2012 Olympic Bid. His many compositions have been performed in leading London concert venues ranging from St. John's Smith Square and the Wigmore Hall through to the Purcell Room, Royal Festival Hall and the Royal Albert Hall. His music has also been performed in Alice Tully Hall, The Academy of Music (Philadelphia) in the New to New York Series, as featured composer in the Tampa Bay Composer's Forum as well as being featured in music festivals in Washington State, Michigan, Delaware, Massachusetts and Maryland. He has been featured on National Public Radio as well as on NBC, PBS and FOX TV in the Delaware Valley. Since 2012 David has been featured composer at the 'Music on Volcanic Lakes' and the 'Grumo Appula' festivals in Italy (including broadcasts on Vatican Radio and Radio Libera Tutti) at the Johann Sebastian Bach Music School in Vienna, the Tibor Vargas Academy in Hungary, Rotterdam Conservatoire, Royal Dutch Conservatoire (The Hague) as well as broadcasts on the BBC and TV appearances on French TV with internationally acclaimed jazz artist Michel Legrand.
Recordings of David Osbon's music are available on the AMP, Albany and Music-Chamber labels his music is published by Emerson Edition, Forton Music Publishers and Edition Matching Arts.