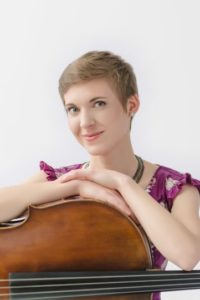 Cellist Frances Borowsky has performed recitals in Rome, Paris, Warsaw, Frankfurt, Cologne, Yekaterinburg, Beijing, Tianjin, Hanoi, Jakarta, and Havana, in major venues such as the Kennedy Center, Kimmel Center, and Penderecki European Music Centre. She has been featured as soloist with the Tianjin Symphony Orchestra, Oregon Pro Arte Chamber Orchestra, Rheinland-Pfalz Jugend Orchester, Gettysburg Chamber Orchestra, Polish Youth Symphony, Alexandria Symphony Orchestra, and Lebanon Valley College Orchestra.
A native of Baltimore, she grew up in an exceptionally musical family and thus honed her love for solo and chamber music performance. Together with her siblings, Frances performed her New York Debut at Carnegie Weill Hall at the age of twelve as a recipient of the Erick Friedman Prize for Outstanding Young Musicians. In December 2018, Frances performed at Carnegie Hall-Stern Auditorium as a featured, invited soloist in a celebration of Antonin Dvorak. In October 2019, she will perform Schumann's Cello Concerto with the Susquehanna Symphony Orchestra in Maryland.
​Recent performance highlights include concert tours in France, Israel, Lithuania, and Cuba, performing Vivaldi's Double Cello concerto with Cecylia Barczyk and the Alexandria Symphony Orchestra, and Beethoven's Triple Concerto with her siblings and the Oregon Pro Arte Chamber Orchestra. Frances performs frequently in the Amici Music Series with founder and pianist Dan Weiser, and has performed for the Riversdale Chamber Music Society with faculty from the University of Maryland, Chopin Club in Providence, Tempo New Music Series at UMD, and the UMD Chamber Music Showcase at the Millennium Stage at Kennedy Center. Frances has also collaborated with wind ensemble Quinteto Latino, pianists Brian Ganz and Georges Beriachvili, cellist Amit Peled, violinists Shmuel Ashkenasi and Borisas Traubas, and the Dagilelis Boys Choir of Lithuania. Her three solo performances at the Keshet Eilon Mastercourse in August 2017 were live-streamed and broadcast around the world.
Awards include the Grace Clagett Ranney Prize for excellence in chamber music at The Peabody Institute, first prizes in the Mary Graham Lasley Concerto Competition, Levine Chamber Music Competition (as part of Trio INUENDI), Baltimore Music Club Competition, and Peggy Friedman – Yale Gordon Competition, and second prizes in the University of Maryland Concerto Competition, and the Sylvia and Irving H. Cohen Competition. Frances performed her New York Debut at Carnegie Hall at the age of twelve as a recipient of the Erick Friedman Prize for Outstanding Young Musicians.
Throughout her career, Frances has been involved with performing and composing new music. She frequently performs together with her brother (violinist Emmanuel Borowsky) and sister (pianist Elizabeth Borowsky). As Artists-in-Residence at the Dilsberg Castle (Germany) in 2008, she and her siblings co-composed their first trio, "Postcards from Dilsberg," which is available on DVD and published by ICRecords. Since then, they received several commissions to compose more trios, frequently include these in performance.
Simultaneous to her performance career, Frances enjoys teaching cellists of all ages and levels. ​In Fall 2017, she began teaching at Lebanon Valley College in Annville, Pennsylvania. Since 2012, Frances has served as Co-Executive Director of the Intermuse International Music Institute and Festival USA. There, she teaches cello and chamber music to students from around the world, and collaborates with IIMIF faculty in chamber music performances. Frances is also  Co-Director of the Vivaldi String Academy in Towson, MD.
Frances has received cello performance degrees under the tutelage of Cecylia Barczyk at Towson University (BM), Amit Peled at The Peabody Conservatory (MM), and Alexander Huelshoff and Laurenciu Sbarcea at Folkwang University in Germany (MM). Additionally, she has been mentored by prestigious cellists Janos Starker, Johannes Moser, and Michael Flaksman. Frances is currently a Doctoral Candidate at the University of Maryland, where she studies with Dr. Eric Kutz.
Biography and photo from http://www.francesborowsky.com/biography.html