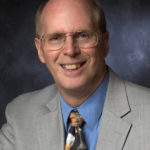 Jesse Ayers was the winner of the inaugural American Prize for Orchestral Composition in 2011 and winner of the the 2016 Opera Kansas Zepick Modern Opera Composition Competition. His music has been performed in Japan, South Korea, New Zealand, South Africa, Poland, Serbia, Slovenia, Bosnia-Herzegovina, Portugal, and more than 100 U.S. cities. His music has been performed by the Akron Symphony, the Michigan Philharmonic, the Yakima Symphony, university orchestras and concert bands, and has been selected on two occasions by the International Society for Contemporary Music to represent the United States at the prestigious World Music Days festival. He is best known for his orchestral and symphonic band "surround-sound" concert stories that explore the intersection of the spiritual and natural worlds and the redemptive intervention of God in the affairs of the human race.
In 2014, Dr. Ayers was named an "Honored Artist" of the American Prize. That same year he received his second Individual Artist Excellence Award from the Ohio Arts Council, and in 2015, both the Ohio House and Ohio Senate presented Dr. Ayers with citations for "tremendous attainment."  In both 2014 and 2013, Ayers was a double finalist for the American Prize.  In 2013, he won the Boston Metro Opera's Concert Award, and in 2011 was one of the three national co-winners in the Dayton Ballet's "New Music for New Dance" competition.  In 2010, he was awarded a fellowship to compose at the MacDowell Colony.  In 2004, Ayers was one of five American composers selected to participate in the "Essentially Choral Reading Sessions" in Minneapolis conducted by Philip Brunelle, and in 2003, was one of six American composers whose music was selected to represent the United States at World Music Days.
Recent commissions include those from the Akron Symphony, Soprani Compagni, Milligan College, the Indiana Bandmasters Association, the Ohio Private Colleges Instrumental Conductors Association, and the Wisconsin Lutheran National Honors Band.
Ayers has been a guest composer on university campuses in Mississippi, Iowa, Colorado, Rhode Island, Wisconsin, California, Illinois, Indiana, New Mexico, North Carolina, Virginia, Florida, Ohio, and Tennessee.
Born in Knoxville, Tennessee, Ayers began composing in his early teens, and at age 17 was invited by WJ Julian to conduct the University of Tennessee's top concert band in a performance of his first work for band. Ayers matriculated to the University of Tennessee for his undergraduate and Master's work, where he studied with David Van Vactor, John Anthony Lennon, and Donald Neuen. Ayers holds the doctorate in music composition from the University of Kentucky.
Since 1997, Ayers has served on the music faculty of Malone University, where he has twice been awarded the school's Distinguished Faculty Award. Prior to that, he taught at Knoxville College from 1982-1997.