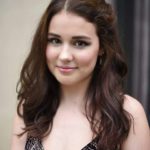 Kara Iwanowski began playing the piano at the age of five. Now, at seventeen, Kara has found music to be the common thread among her favorite life experiences, and a passion she continues to pursue throughout life. She has discovered a love for teaching, for music theory, and most prominently, for chamber music. Kara has participated in several summer programs such as the Intermuse International Music Institute and Festival and the Apple Hill Center for Chamber Music to explore her passion for chamber music. Kara also enjoys teaching her friends and neighbors to play the piano, something that not only provides experience for Kara but spreads a love for music throughout the community – one of Kara's major goals as a musician.
Throughout her career, Kara has received awards such as The Gold Cup from the National Federation of Music Clubs Festival, a place in the national level of the International Young Artists Piano Competition, and several honorable mentions from the Maryland State Music Teachers Association competition. Kara has also received several scholarships and honorariums, such as the Judy Famous scholarship and the Intermuse International Music Institute and Festival scholarship. Kara has also worked with several prominent musicians, including Brian Ganz, Elizabeth Borowsky, Arno Drucker, Frederick Minger, Washington Garcia, Mark Hardy, Cecylia Barczyk, and Jonathan Carney.
Kara is a senior at the Baltimore School for the Arts. She currently studies with Marian Hahn at the Peabody Institute as she prepares for college. BSA has provided Kara with an extensive theory education as well as an intense, immersive environment in which she can develop her skills and musicianship. Every year, Kara participates in the school's chorus, and for the past two years has also been a part of the school's chamber chorus, where she sings works such as Carmina Burana, Brahms' Requiem, Mozart's Requiem, and Mendelssohn's second symphony. At BSA, Kara has been able to form chamber groups with her peers as well as participate in performance opportunities with groups such as the Baltimore Symphony Orchestra and the Johns Hopkins Symphony and Chorus.
This will be Kara's third performance with the Susquehanna Symphony Orchestra – she has previously performed Mozart's Double Piano Concerto and Malcolm Arnold's Ballade from Stolen Face.
Every day, Kara hopes to learn and grow as a musician and person. She plans to study music education and collaborative piano in college, and aspires to share her passion for  music throughout the world.