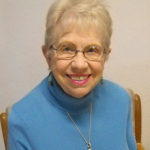 California composer, Nancy Bloomer Deussen is well known both as a composer and performer. She is a leader in the growing movement for more melodic, tonally oriented contemporary music and is founder and President Emeritus of the SF Bay Chapter of the National Association of Composers, USA. Her original works have been performed in the USA, UK, Canada, Indonesia, Iran, Europe, Australia and China and she has received numerous commissions both locally and nationally.
Her education includes degrees in music from The Manhattan School of Music and USC School of Music and composition study with Vittorio Giannini, Lukas Foss, Ingolf Dahl and Wilson Coker. She was Second Place Winner in 2013 in the American Prize in Chamber Music Composition for her "Woodwind Quintet" and in 2014 she was selected as one of five nationally Honored Artists by The American Prize.
Her most recent honors are being chosen as First Place Music Winner of The Biennial Music Competition (NLAPW-2018), performances of her "American Hymn" in 2017 by The Florida Symphony Youth Symphony on tour in Europe, a commission to compose a work for chorus and orchestra to celebrate the 40 year anniversary of Mission College and 10th anniversary of The Mission College Orchestra (Santa Clara, CA) and a commission from Duo Terlano (PA) for a suite for violin and cello. Both premieres took place in April, 2017.
Audio links of some of her works and more information can be found at:
www.nancybloomerdeussen.com and www.wendelmusic.com