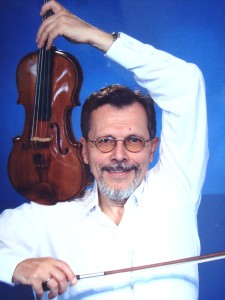 Viktor Khodyko has studied violin and viola since he was 6 years old. He graduated from the Belorussian State Conservatory, one of the most prestigious musical institutions in the former Soviet Union. His teacher was a famous violinist, Victor Golfeld, who himself was one of the pupils of the legendary L. Auer together with Y.Heifitz, M.Elman and other internationally celebrated violin players.
Viktor Khodyko was the Principal and Associated Violinist and Violist in several orchestras in the former Soviet Union and Germany, including Minsk Chamber Orchestra and Minsk Radio Orchestra in Belarus; Braunschweig City Opera in Germany; and finally, for the last 20 years he was the Principal Violist of the Radio Orchestra of South-West Germany (German Radio Philharmonie Saarbruecken – Kaiserslautern, Germany). As a Principal Violinist and Violist, Viktor had a chance to work with many internationally renowned musicians, including  M.Rostropovich, D.Hvorostovsky, C.Bartoli, M.Caballe, to name just a few. He appeared frequently on Radio and TV, both in the former Soviet Union and Germany, as a soloist and chamber music performer. Viktor's performances were featured in numerous recordings produced in Germany and Belarus.
In addition to his extensive performing career, Viktor Khodyko has always enjoyed teaching. He taught Violin and Chamber music at Belorussian State Conservatory and later continued as a Violin teacher at I. Kant Gymnazium in Pirmasens, Germany. After concluding his official performing career, Viktor Khodyko has recently moved to the USA to join his family. He continues to enjoy performing Chamber Music and appearing as a soloist, and has recently joined Bel Air Music Studios. He is a member of the Susquehanna Symphony Orchestra where he shares his experience and love of music with the next generation of classical musicians.