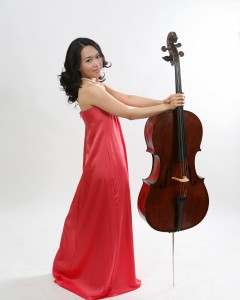 Alexis Lee was born in South Korea, beginning piano lessons at age 5. She came to the United States with her family when she was 11 years old and settled in Bel Air, Maryland She began studying the cello under Judi Famous while a student at Prospect Mill Elementary School. It was during those early years of study that she was introduced to the SSO's principal cellist, Laura Ruth, with whom Alexis studied privately for about three years. Her dreams and aspirations for her musical career began to take shape under SSO Founder and Music Director Sheldon Bair while he was her orchestra instructor/conductor at Southampton Middle School. She studied under Cecylia Barczyk from 2001-2005 and is a graduate of Julliard School of Music. Mrs. Lee is presently working toward her Masters at Manhattan School of Music under the teaching of David Soyer.
Mrs. Lee has performed with the Susquehanna Symphony Orchestra in the past as well as the York Symphony Orchestra under Dr. Robert Hart Baker. She was honored to receive 2nd place in the 28th York Symphony Concerto Competition in 2002 and received first place in the Friday Morning Music Club Gus Johansen High School String Competition in 2003.
Mrs. Lee is newly married and makes her home in Flushing, New York. There she is a member of her church orchestra, praise team and BacktoWorship band. Her goal of a music ministry is born of her desire to use God's gift to her to glorify His name.