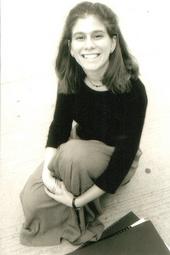 A native of Philadelphia, the music of Amanda Harberg  has been widely commissioned and performed in the United States and abroad. Harberg's music has been performed frequently in Lincoln Center, Carnegie's Weill Hall, and in many universities, recital halls, conferences and art museums throughout the country. She has received commissions from the New York Youth Symphony, the New York State Council on the Arts, the Geraldine R. Dodge Foundation, the American Music Center, the Harmonium
Choral Society, the New York State Music Teachers Association, the Juilliard School's 'Piano Century' Festival, the New Juilliard Ensemble, the Palisades Virtuosi, Freespace Dance, the New Jersey Arts Collective, the Azure Ensemble, the Montclair State University 'Octubafest', the Margaret Atwood Commissioning Project and from frequent collaborator violist Brett Deubner. Harberg's orchestral music has been played by the American Composers Orchestra, the string players of the New Jersey Symphony, the Susquehanna Symphony, the String Orchestra of the Rockies, the Philharmonic of Ecuador, the New Juilliard Ensemble and by Interlochen's World Youth Symphony Orchestra.
Ms. Harberg is currently working on a solo piano piece for the new music pioneer Kathy Supove.  Her piece 'Subway', for two pianos, was presented last June by the American Modern Ensemble with powerhouse pianists Stephen Gosling and Blair McMillen. Ms. Harberg has also scored several documentaries for PBS. Her awards include a Fulbright/Hays Fellowship to study with composer/pianist Frederic Rzewski, Juilliard's Peter Mennin Prize for outstanding accomplishment, Juilliard's Morse Fellowship, a MacDowell Colony summer residency, and regular ASCAP Plus awards. She has recordings out on Koch International, Centaur Records, and an upcoming recording on Albany Records. Her educational band music will be released by the C.L. Barnhouse Company in the Fall of 2010. She has taught at Juilliard's MAP Program and at the Interlochen Center for the Arts, as well as maintaining an active private teaching studio since 1997. Harberg received her BM and MM from the Juilliard School, where her teaches included Robert Beaser, David Diamond and Stephen Albert. Harberg currently lives in New Jersey with her husband Micah Fink, and their two young children, Lucas and Sydney.
To find out more, please go to www/myspace.com/amandaharberg