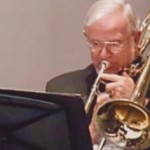 Don Raff, SSO's bass trombonist has always been fascinated by the art of creating colorful music sounds through the use of orchestration. His favorite composers all have been great orchestrators: Berlioz; Rimsky-Korsakov; Tchaikovsky; Wagner; Richard Strauss; Ravel; Stravinsky; and Americans Howard Hansen and William Grant Still. He also admires the late Robert Russell Bennett who orchestrated many Broadway shows.
An elective college course in orchestration only added to his interest. As a high school band director with an extremely limited budget for the purchase of music, he arranged much of the music played by his football season marching bands and occasionally a longer piece for concert band.
For the SSO, Don has written eleven arrangements for full orchestra and one for chamber ensemble. Works performed at the December Holiday Concerts are: "We Wish You a Merry Christmas";" Christmas Lullabies"; "Christmas Spirituals"; and "Parade of the Wooden Soldiers". For the summer concerts Don has arranged Benedetto Marcello's "Psalm 19" for brass quartet and orchestra, three movements from Paul Weston's "Crescent City Suite", two Enrique Granados "Spanish Dances" and "Yaravi Peruano", by Nicaraguan composer Luis Delgadillo. An arrangement of two hymns, "For Judi" for double reed choir and later for cello choir was written to honor the memory of former SSO principal oboist, Judi Famous.
Don has also written three arrangements for the Bel Air Community Band, works for clarinet quartet, trombone quartet, euphonium/tuba quartet and percussion ensemble. Although primarily an arranger, he has composed a work for middle school band and songs for two of his grandchildren.
With a few exceptions, all of the music Don arranges is in the public domain. Publisher permission was secured for the exceptions. Don appreciates the encouragement of Sheldon Bair and support from former president Colleen Grotke and current president Mark Grotke in his endeavors.