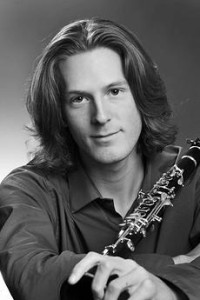 Clarinetist Joel Weszka is an active and distinguished performing artist, promoting classical and contemporary classical music in a variety of venues and musical contexts. At home in Romantic music as much as Avant-garde, he performs in all capacities as solo, chamber, and orchestral musician. With a special love of chamber music, he made his Kennedy Center debut in 2012 with Trio INUENDI as winners of the Levine Chamber Competition, all three of whom were awarded the Grace Clagett Ranney Prize in Chamber Music upon graduation from The Peabody Institute.
Further, Mr. Weszka has twice been a prize-winner in the Peggy Friedman-Gordon Competition (3rd: 2007 and 2008); he won the Maryland Distinguished Scholar Talent in the Arts Award (First prize, awarded as scholarship 2007 – 2011), and has held the Jane Emel Donato Endowed Scholarship for the duration of his education at The Peabody Institute. There he placed 3rd in the Conservatory's Yale Gordon Concerto Competition in 2013. He has performed with the Bay View Wind Quintet and has performed as Guest Artist at the International Institute and Festival USA, where his work as Guest Artist culminated in a series of concerts in Maryland and Pennsylvania, and a subsequent appointment as Faculty in Chamber Music.
In addition to Millennium Stage (at the Kennedy Center), he has appeared numerously as recitalist and chamber musician in the Bulgarian Embassy, The Liriodendron Mansion, Ladew Gardens, The German Society of Pennsylvania, Three Arts Club of Baltimore, The Walter's Art Gallery, An Die Musik LIVE, The Peabody Institute, Easton Art Academy, and Music in the Great Hall, as well as various churches, retirement homes, and local schools.
He is recorded with the Peabody Wind Ensemble in the world premiere of Judith Lang Zaimont's Piano Concerto, as well as numerous concerts with Peabody's two orchestras where he served as Principal Clarinet. While living in Baltimore, MD, he served as clarinetist with the Occasional Symphony, a chamber orchestra that explores new possibilities of programming with concerts in non-traditional venues in and around Baltimore City, MD.
As an avid teacher, Mr. Weszka has sought the tutelage of performers of all specialties to hone his educational paradigms. As such, he has performed in masterclasses for the artists James Campbell, David Jones, Ed Walters, and Ralph Skiano. With exceptionally generous support from Temple University's Helen Laird Tribute Fund, and a Career Development Grant from The Peabody Institute, Mr. Weszka travelled to Europe in Summer 2014 to study with eminent pedagogues of clarinet. Centering the journey on one of the global centers of classical music – Berlin, Germany – he studied extensively with Walter Seyfarth (of the Berlin Philharmonic), Diethelm Kühn, and Martin Spangenberg (both of the Hochschule für Musik Hanns Eisler), as well as flutist Rebecca Lenton (of KNM Berlin). He made additional travels to the Staatliche Hochschule für Musik Trossingen to work with contemporary specialist Chen Halevi, and finally to Stockholm, Sweden, where he worked with violinist Santiago Jimenez Borges, and Hermann Stefansson (Principal Clarinetist of the Royal Stockholm Philharmonic).
Mr. Weszka holds the B.M., M.M., and G.P.D. from The Peabody Institute where he was a student of Anthony McGill.  He is currently a Doctoral Candidate in Temple University in the studio of Ricardo Morales.