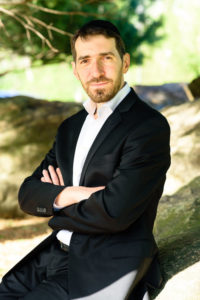 Distinguished by The New York Times as "a leader of contemporary American lyricism," composer Jonathan Leshnoff is renowned for his music's striking harmonies, structural complexity, and powerful themes. The Baltimore-based composer's works have been performed by more than 65 orchestras worldwide in hundreds of orchestral concerts. He has received recent commissions from Carnegie Hall, the Philadelphia Orchestra, and the symphony orchestras of Atlanta, Baltimore, Dallas, Kansas City, Nashville, and Pittsburgh. Leshnoff's compositions have also been premiered by classical music's most celebrated artists, including Gil Shaham, Roberto Díaz, Johannes Moser, Manuel Barrueco, Ricardo Morales, and Joyce Yang.
Leshnoff has been ranked among the most performed living composers by American orchestras in recent seasons, and upcoming seasons are comparably active with musical activity and collaborations. Highlights for the 2018-19 season include the Pittsburgh Symphony Orchestra's premiere of Leshnoff's Concerto for Clarinet and Bassoon, the Bournemouth Symphony Orchestra's premiere of Leshnoff's Suite for Cello, Strings, and Timpani featuring the eminent cellist Johannes Moser, and the start of a multi-year residency with the Fairfax Symphony. Orchestras from the Knoxville Symphony to the Colorado Springs Philharmonic also perform works from Leshnoff's robust ouevre.
Leshnoff has released four albums to date, all on the Naxos American Classics label. Featured recordings include his Violin Concerto No. 1 with Charles Wetherbee and the Baltimore Chamber Orchestra, selected among Naxos' Top 40 CDs the year of its release; and his Symphony No. 1, conducted by Michael Stern with the IRIS Chamber Orchestra along with Leshnoff's chamber music. An all-Leshnoff recording of the Atlanta Symphony performing Leshnoff's Symphony No. 2 and Zohar oratorio was released in November 2016. In December 2017, the recent band arrangement of Leshnoff's Clarinet Concerto was featured with Philadelphia Orchestra principal Ricardo Morales in a recording with the United States Marine Band. A new all-Leshnoff release is expected planned for May 2019, with the Nashville Symphony performing his popular concert opener Starburst, his Guitar Concerto with Jason Vieaux, and his recently premiered Symphony No. 4, "Heichalos" featuring the Violins of Hope.
Celebrated by Fanfare magazine as "the real thing," Leshnoff's music has been lauded by Strings Magazine as "distinct from anything else that's out there" and byThe Baltimore Sun as "remarkably assured, cohesively constructed and radiantly lyrical." Leshnoff's catalog is vast, including several symphonies and oratorios in addition to numerous concerti, solo, and chamber works. Leshnoff is a Professor of Music at Towson University.
Biography and photo from https://www.jonathanleshnoff.com/