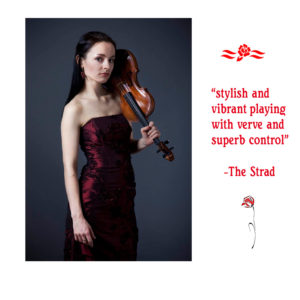 Kinga Augustyn is a New York City-based virtuoso concert violinist and recording artist. One of the last students of the legendary Dorothy DeLay at The Juilliard School, Ms. Augustyn has a large repertoire of more than 40 concerti, both standard and lesser–known, that she has performed with such orchestras as the German Kammerorchester Berlin and the Wroclaw Philharmonic. Augustyn's expanding discography on major labels such as Naxos, includes the Paganini Caprices, which music critics consider as convincing as Perlman's or Midori's, and an "an enduring benchmark" (Classical Net). "Stylish and vibrant" (The Strad Magazine), and "beyond amazing, one hell of a violinist!" (The Fanfare Magazine), Kinga Augustyn is often praised for her musical interpretations. Music Web International describes her recording of the Bruch Violin Concerto with Janacek Philharmonic as "extremely moving and expressive," characterized by "beauty, richness and smoothness of her tone," and as "music she responds to on a deeply personal and emotional level."
Augustyn has performed as a soloist with orchestras in the United States, Europe and Asia, including the Deutsches Kammerorchester Berlin, Magdeburg Philharmonic Orchestra, the Chamber Orchestra Leopoldinum, the Wrocław Philharmonic Orchestra, and the Riverside Symphonia. She has toured China and performed at China's most prestigious venues such as Beijing Poly Theater and Shanghai Oriental Art Center. Other venues she has appeared at as a recitalist or chamber musician include both the Stern Auditorium and the Weill Recital Hall at Carnegie Hall, Alice Tully Hall, The Metropolitan Museum of Art, The Aspen Music Festival, and Chicago Cultural Center. In addition to concerti with orchestras and recitals with piano, she frequently performs unaccompanied solo violin recitals.
Augustyn's most recent recording of world premieres by the contemporary Polish composer Romuald Twardowski (b. 1930) was released in 2019 on Naxos. Performed with the Torun Symphony Orchestra and maestro Mariusz Smolij, the project was initiate by Augustyn, who has proven her commitment to increasing awareness of music by Polish composers. Previously, she had made a significant contribution to Polish music by recording Polish Violin Music, a highly praised, "fascinating" (The Strad) album of lesser-known Polish composers. Augustyn's other recent and critically acclaimed recordings include the Telemann 12 Fantasias for Solo Violin (Centaur Records), in which "her interpretations are convincing in every piece here, and the Baroque spirit of the violin and Telemann's mastery abiding throughout" (Music Web International); and Glen Roven's Runaway Bunny Concerto performed with Catherine Zeta-Jones as a narrator and featuring Kinga Augustyn's Solo Violin Cadenza (GPR Records). Her "exquisite playing" (Music Web International) is often praised for the profundity, deft phrasing, beautiful tone, mastery of the bow, and perfect intonation. "With completely secure technical control, she couples a tapestry of tone color to her innate musicality" (The Fanfare Magazine).
Ms. Augustyn is an advocate of new music and premieres and records new works, oftentimes written especially for her. A new album of contemporary works will be released shortly. In 2020 she will also record the Tchaikovsky and Wieniawski Concertos with the Kiev Philharmonic under the baton of maestro Philip Greenberg.
Ms. Augustyn has won international awards, including First Prizes at the Alexander & Buono International String Competition (NYC), Artist International Presentations (NYC), J. S. Bach String Competition (Zielona Gora, Poland), and the 2017 "Young Poland" contest in Poland. Other top honors include prizes at the Johannes Brahms International Competition (Poertschach, Austria) and the Kloster Schoental International Young Artist Competition (Kloster Scheontal, Germany).
Ms. Augustyn studied at The Juilliard School with Dorothy DeLay, Cho-Liang Lin, and Naoko Tanaka, and earned there both the Bachelor and the Master degrees. She also holds a doctorate from the Stony Brook University where she worked with Phil Setzer and Pamela Frank. Augustyn plays on an early 18th century violin made by Antonio Zanotti, generously on loan to her from a private collector. In 2019 she was appointed the Artistic Director of New York Dance Arts & Innovations and the Chopin&Friends Festival.
Biography and photo from https://kingaaugustyn.com/