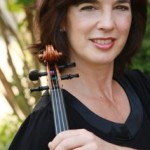 Linda Leanza, after graduating from Bel Air High School in 1980, did her undergraduate studies in Violin Performance at the Catholic University School of Music, as a David Burchuk Memorial scholarship recipient. She went on to receive her Master's degree in Violin Performance from the University of Michigan School of Music, where she was Second Violinist in the Honors String Quartet and received a full scholarship as a Teaching Assistant. Ms. Leanza's professional career began by being appointed Principal Second Violin of the Baltimore Opera Company, Concertmaster of the Harrisburg Symphony, and later winning a
first violin position with the New Orleans Symphony.
After moving to Guatemala with her family, Ms. Leanza was a featured soloist with the National Symphony of Guatemala and toured Guatemala and Florida after the release of their Contemporary String Quartet's CD of Guatemalan classical
music. She was honored by the Dante Alighieri Society with the Medal of Honor in the Arts, awarded the Medal of Arts from the President of Guatemala and his wife at a recital performance at the National Palace, and participated as soloist in the opening of the newly renovated National Conservatory of Music of Guatemala.
Currently, Ms. Leanza holds the position of Principal Second Violinist of the National Philharmonic, and she is a first violinist in Maryland Lyric Opera Orchestra and the Baltimore Choral Arts Orchestra. As a free-lance musician, Ms. Leanza has had the opportunity to play for world-renowned pop artists as well, including Andrea Bocelli, Johnny Mathis, Kristin Chenowith, Jennifer Hudson, and many others. She is also considered an "actor" after appearing as the First Violinist in a string quartet for a  scene in the new Netflix production, "House of Cards." Ms Leanza has also been a regular orchestral musician for Harry Connick, Jr. on his visits to Baltimore and Washington, DC. Most importantly, Ms. Leanza has a flourishing private violin studio of talented and motivated students. They have won leadership positions in all their respective school, local, county and state youth orchestras. Many have gone on to successful careers in music and Ms. Leanza is honored to have played a small part in inspiring and encouraging music in their lives.