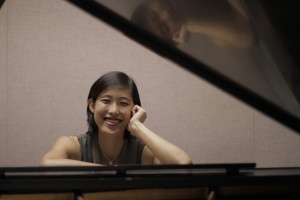 A native of Seoul, Korea, pianist Chungwon Lydia Chung is an accomplished musician as a soloist, collaborative artist, and teacher. She made her public debut at the age of 11, performing in 'Young Artist Concert' as a second prize winner of the Ihwa-KyungHyang competition, and was acclaimed by critics as "outstanding performance that can be rarely found." (The Piano, Korea) Since her debut, winning several competitions including the Korean-American Cultural Foundation Competition in Seoul led her to numerous solo engagements such as performances with Seoul National University Orchestra and Kunpo Philharmonic Orchestra as well as solo recitals in South Korea.
Dr. Chung has achieved public recognition through concert appearances in distinguished summer festivals such as the New Millennium Piano Festival in Spain and Banff International Keyboard Festival in Canada. She was the winner of the first prize in the Baltimore Music Club Competition, and had a solo recital as a guest artist for the Performing Arts Series in Jamestown College, Harford Community College, Artscape, and for the Candlelight Concert Series at St. Croix. She also has collaborated with numerous singers and instrumentalists as a designated accompanist for the Peabody Conservatory, for the Preparatory Division of the Peabody Institute, for the Peabody Opera Outreach Program, and for the University of Maryland Baltimore County's Music Department.
Dr. Chung received her Bachelor of Music degree with Cum Laude from Seoul National University and her Master's and doctoral degree from the Peabody Institute of the Johns Hopkins University where she studied with Boris Slutsky. Her previous teachers include Hae Sun Paik and Soo Jung Shin. She currently serves as a faculty member at The Park School of Baltimore, The Bryn Mawr School, and Harford Community College.