Listed are the six concerts in the SSO concert series. Concerts #1, 2, 3, and 5 are available as a subscription series. Concert #4 is a chamber benefit concert and Concert #6 is a free concert presented al fresco.
Concert #1


Three Centuries of Mozart
Featuring Prodigious Talent!
October 11, 2014, at 7:30PM | Bel Air High School
Sheldon Bair – Conductor
Kara Iwanowski – pianist
Elizabeth Borowsky – pianist
Mozart – Minuet in C Major, K. 409
Mozart – Concerto for Two Pianists in E-flat Major, K. 365
Mozart – Kontretänze No. 1 in C Major, from K. 609
Tchaikovsky – Gigue from "Mozartiana"
Mozart/Russell Peck – Mozart Escapes from the Museum; Concerto for Orchestra
Concert #2


Merry Christmas and Happy New Year!
An Audience Participation Concert!
December 6, 2014 at 7:30PM | Bel Air High School
Sheldon Bair – Conductor
Jesse Ayers – Fanfare and Carol for Christmas
Donald Raff – A Czech Christmas (premiere)
arr. Todd Hayen – Good King Wenceslas Medley
Johann Strauss Jr. – Overture to Die Fledermaus
Johann Strauss Sr. – Radetzky March
Todd Hayen – Maltese Winter
Tchaikovsky/arr. Ellington – Nutcracker Suite (Jazzed Up!)
arr. Bair – Christmas Sing Along
Concert #3


The Colorful Orchestra
A Sibelius Anniversary Concert
March 14, 2015 at 7:30PM | Bel Air High School
Sheldon Bair – Conductor
Katie Bohdel, Soprano
Rimsky-Korsakov – Wedding March from "The Golden Cockerel"
Berlioz – Les Nuits d'Ete (selections) – Katie Bohdel, Soprano
Sibelius – Symphony No.1 in E Minor, Op.39
Concert #4
St. Mathew Lutheran Church
April 12, 2015 | St. Mathew Lutheran Church, Bel Air, MD 21014
SSO members create small groups and play their favorites in this informal free concert. This year's beneficiary is Upper Chesapeake Cancer LifeNet.
Concert #5


All That Jazz!
A fun and moving concert! – Side-by-Side Concert
May 2, 2015 at 7:30PM | Bel Air High School
Sheldon Bair – Conductor
Roy Sonne – Violin
Harford County Public Schools' finest Harford Youth Orchestra students
Sir Malcolm Arnold – Four Scottish Dances, Op.59
Vaughan Williams – Fantasia on a Theme by Thomas Tallis
Scott Routenberg – Concerto for Jazz Violin and Orchestra – Roy Sonne, Violin
Aaron Copland – Hoe Down from "Rodeo"
Arturo Marquez – Danzon No. 2
The SSO welcomes Harford County Public Schools' finest musicians in this annual "side-by-side" concert. Thanks to the publishing company of Novello and G. Schirmer for Malcolm Arnold's music, and to Subito Music for the music to Marquez's Danzon No. 2. Thanks to Scott Routenberg and Roy Sonne for the music to the Jazz Violin Concerto.
Concert #6
Free Bel Air Summer Concert Series
June 7, 2015 at 7:00PM | Humbert Memorial Band Shell
In the event of inclement weather, the concert will be at Bel Air High School – a decision will be made by 3pm on Sunday, June 7th, so check here or www.facebook.com/ssorchestra for updates.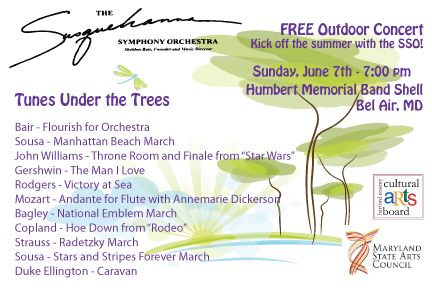 Kickoff the summer with this annual Bel Air Outdoor Summer Concert event. Bring a picnic and blanket and join the SSO for some tunes under the trees. In case of inclement weather, concert will be held at Bel Air High School. A weather call will be made at 3:00.